Toys for dogs are not a luxury; it is a necessity for their physical and mental well-being. Without further delay, check out these German Shepherd toys, now!
German Shepherd dogs are a very active dog breed. As we all know, German Shepherd dogs are working dogs, they were developed originally for herding sheep, and since then; German Shepherd dogs are one of the most popular working dogs.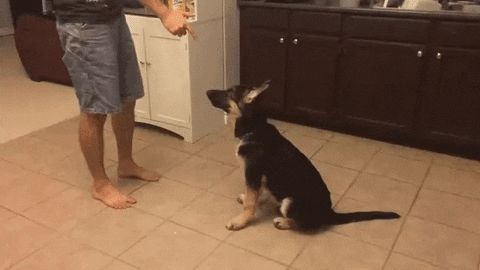 Moreover, German Shepherd dogs are amazingly perfect at anything they are trained to do, not to mention, that they are a very faithful and amazing family pet. Therefore, choosing a toy for them is not easy; it's a very challenging mission, and we are here to help you accomplish your mission.
How to choose German Shepherd toys?
Choosing a toy for your German Shepherd can be challenging, especially when there are a lot of them in the market. Therefore, here's how you can choose German Shepherd toys in 3 simple steps:
Step 1: Choose what kind of German shepherd toys do you need for him/her.
There are different types of toys for German Shepherd dogs, and any other dogs too; there are Puzzle Toys, Comforting Toys and Exercising Toys. However, choosing any of them depends on: how old is your dog, what types of toys he/she prefers and, of course, how it can help him/her grow and become smarter and healthier.
Puzzle Toys:
Puzzle toys are not just toys that can help your German Shepherd think and act fast, but also puzzle toys are fun toys that can help your dog spend his/her spare time having fun with his/her toy.
Therefore, today we have this amazing Automatic Ball Launcher, that will keep your dog busy for hours! It is designed to teach your dog, fast and easy, the way it works and by using treats. So, your dog will have fun and eat, too!
So, How it works?
Simply, your dog places the tennis ball in the machine, and wait for it to throw out the ball. Then he/she runs to get the ball, take the treat that comes with the ball, then place the ball again; and this is how the fun time is literally on.
All you have to do is to train your dog for the first several times, to know where he/her should put the ball when he/she should get ready to catch the wall, and of course, your mission is to put the treat on the machine. That's it!
Now, you can ORDER your dog's toy and SAVE 40%. Introduce the toy to your dog, watch your dog playing, training and having fun, all in one, while you are chilling and drinking your coffee.
Comforting Toys:
We all love those cozy, warm, stuffed, and easy to hug toys. It makes us feel safe and relaxed. It is the same thing for dogs; dogs love the feeling of coziness that those stuffed toys bring them.
Therefore, we brought you today this cute and huggable stuffed toy, that I consider it as one of the most comforting German Shepherd toys of all time.
The stuffed elephant is perfect for cuddling, for a German Shepherd dog size, they carry it with them everywhere, and actually, it looks so cute I don't mind leaving it anywhere at home, it looks so adorable.
And, Glamorous Dogs have this amazing offer on it, you can get it now and save 27% of its actual price, which is amazing!
Exercising Toys:
As we mentioned before, German Shepherd dogs are super active; they like to run, chase, and play hard. Therefore, Dog Ball Launcher Gun can be one of the perfect German Shepherd toys that you are looking for.
The dog ball launcher gun is not just for your dog, it's also for you to bond with your German Shepherd friend, and also because we know how exhausting it is to keep throwing balls with your own hands for hours!
Therefore, this ball launcher gun, comes with two balls, all you have to do is put the tennis ball and shoot, your dog with do the rest, don't worry!
And, Because summer is already here, NOW you can buy the dog ball launcher gun, and save 50%.
But, what if you need more basic German Shepherd toys?
well, in that case, we have two other games for you:
The Durable Dental Dog Floating Ring:
The durable dental floating ring is perfect for the outdoors playing. If you want to have some time with your dog in the garden and play fetch, this one is great for you.
However, The durable dental dog floating ring doesn't give you the required physical exercises for your German Shepherd only, but it is also amazing for his/her teeth. This floating ring is made of non-toxic rubber, that provides your dog with healthier dog massage for their teeth.
Do you wonder why it calls the floating ring?
Well, because it floats. If your German Shepherd dog loves water, you now can play with him in water without worrying about losing his/her toy.
The Dog Teeth Cleaning Toy:
The dog teeth cleaning toy has six teeth cleaning gears, that your dog can rotate them in his/her mouth, which makes it more effective on the cleaning mission; Not to mention how much fun it gives your dog. We all know how chew toys are the dog's favorite toys.
Now, you can get it and SAVE 60%.
Step 2: Make sure that the toy is safe and suitable for your dog's needs.
Once you decided which toy is suitable for your dog, you need to make sure that the toy you are bringing home, is safe for your dog.
You need to know that your dog will not swallow something from it because it is too small for its mouth, or he/she will break it, because the toy is not made for such strong dogs, last but not least, you have to make sure that its material is not toxic; because it will be in your dogs mouth all day!
Therefore, I made this list for you, but just in case you are going to buy something else, at least put those points into consideration.
Step 3: Give your dog many options.
Dogs are not very different from us, they get bored with their old toys and they like to have new stuff. Even if they got attached to one favorite toy, they will always want to try different toys.
That's why we recommend that you change your dogs' toys whenever you start noticing that they leave it for a long time without playing with it, or if they started to destroy it.
Moreover, you should start searching for more options, even if your dog prefers one type; keep trying and change his/her toys. Because playing with different toys can actually help your dog get smarter and healthier.
Now, it's your turn. Tell us what is your dog's favorite toy, what is the story behind it, and how you knew that this is his favorite one. I know that you have a lot to say about this, I remember how much effort it took from me to finally know what is my German Shepherd dog's favorite toy!